---
Other posts that you might be interested in:
---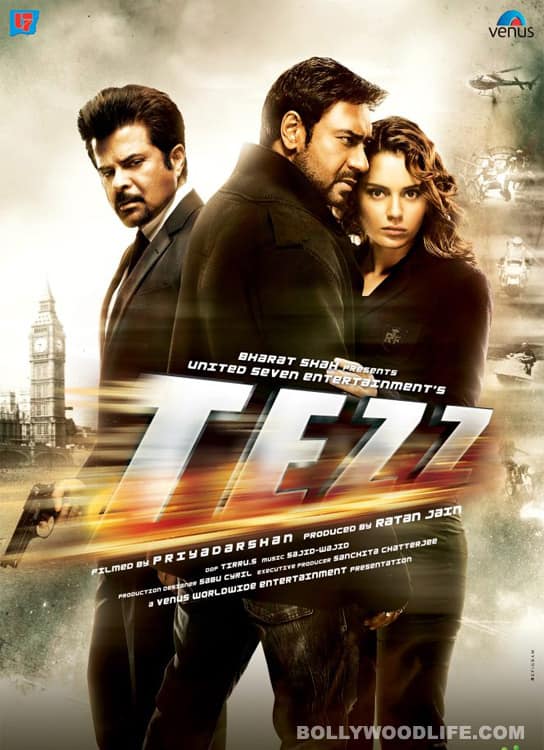 Taut, precise and swift, Tezz works mainly because of its brilliant camera work, commendable background score, sharp editing and fine performances by its actors, but the film's ineffective central idea falls short in producing a gripping tale
Let's put first things first. Produced by Bharat Shah and directed by Priyadarshan,
Tezz
is NOT a cut-and-paste replica of the cult Hollywood thriller Speed. Though the basic premise of Tezz is loosely lifted from the 1994 Keanu Reeves-Sandra Bullock film, the rest of the story is quintessentially Indian at heart, set in England and woefully predictable.
So you have a train (conveniently replacing the bus from Speed) that is on the verge of exploding thanks to a detonator strategically placed somewhere on its exterior. If a particular speed is not maintained, the bomb will go off (the title is justified!). You have passengers being transferred from the fast-moving ill-fated train to another EMU running along a parallel track by 60-something south veteran
Mohanlal
- his pulling the stunt off all by himself is not at all justified! And you have an original plot with an Indian soul coupled with oodles of emotional drama to make the story uniquely desi. Mallika Sherawat does her bit to set the the tone of the film by shaking her booty in a desi club gaana,
Laila
…seetiyaan!
Tezz is not a bad film at all, mainly because of the brisk pace that keeps you hooked. It is taut, very well shot and finely edited. The film manages to hold your interest, but it doesn't quite get you moving forward to the edge of your seat. It definitely gets you almost there, especially at those anxious moments when you find yourself biting your fingernails, anticipating what is going to happen next.
From the promos it is obvious that Tezz is an action-packed masala film, and Priyadarshan's venture does not let the audience down, though it certainly leaves you craving for a solid and far better central idea. The film has so much going on all at once that you're left with little time to dwell on the largely ignorable plot holes and some unimpressive visual effects. While watching this otherwise engaging high-octane drama, you chuckle at some naïve factors our filmmakers tend to stick to. People doing evil deeds in Hindi films can't be just straight-out villainous, but need to justify their villainy as they seek revenge with morality and ethics intact at the back of their modest minds. Taaliyaan!
When the Chief Traffic Controller, London Railways, Sanjay (Boman Irani) gets an intimidating call from Aakash Rana (Ajay Devgn) informing him about the carefully crafted terror attack on the Glasgow-bound train from London, Sanjay takes the responsibility of averting the attack into his own hands. Boman's daughter, played by Avika Gor of Balika Vadhu, is travelling on the same train, you see. The train can't be stopped, 'coz if the speed drops below 60 miles/hour, the bomb will go off. The British government intervenes and sends in their most trusted politician-celebrity head of the counter-terror attack squad, Arjun Khanna (played by the very jhakaas
Anil Kapoor
), who is known for employing his unique ways to deal with challenging situations. Aadil Khan (
Zayed Khan
) and Seema (Sameera Reddy) are the key players for Aakash, who is executing the terror operation to settle an old score. Can the bomb be stopped from going off without halting the train? You have to watch the film to find out.
Shot at beautiful locations across England, Tezz scores thanks to its brilliant photography. The visuals are at par with international standards. The action in the film is thrilling. The car stunts and chase sequences are filmed with meticulous attention to detail. Watch the delicious chase sequences in which Sameera gives the London police a chase for their money on a dirt bike while Zayed performs acrobatic Parkour moves as he runs through various key areas of the city. The performances from the principal cast are a huge plus for the film.
Acting wise, Anil Kapoor has a solid presence and is well complimented by equally intense performances from Ajay Devgn and Boman Irani.
Sameera Reddy
and Zayed Khan don't have much scope to deliver any acting talent, but both have done a satisfactory job. Kangna Ranaut howls, screams, sobs and manages to act in-between the action with an ease we expect from her. She doesn't have much screen presence though and Mohanlal is completely wasted, with just four lines in the entire film – watch him help move the passengers while taking giant leaps from one train to the other, and you can't help but giggle!
All in all, Tezz is a good watch if you have a penchant for glossy action thrillers where the drama inevitably scores over the storyline. The sheer pace of the film overshadows its obvious loopholes effortlessly.
---
Other posts that you might be interested in:
---